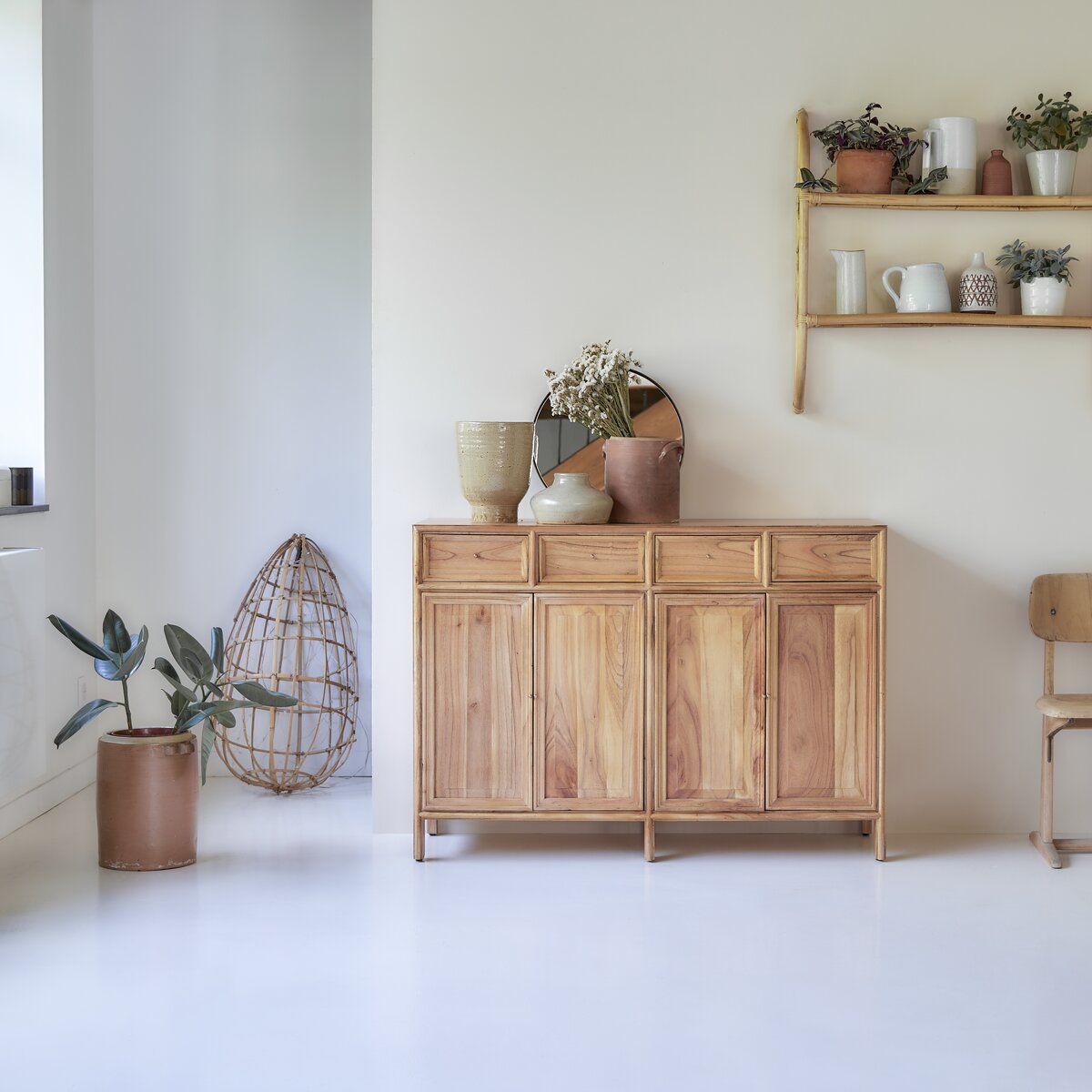 Alex - Mindi wood Sideboard 120 cm
Mindi wood Sideboard 120 cm

Ref. 2593
Wood pretreated with a protective varnish
Plenty of storage spaces
Coordinates with other furniture in this collection
Ready assembled

The Alex sideboard has beautiful lines and timeless charm. Made from mindi wood, it is equipped with 4 drawers and cupboards, which provides plenty of storage space. This piece can help you to effectively organise your home! You can place it in the living room, kitchen or bedroom... its spacious proportions make it very versatile.
In the living room, you can combine it with the Alex dresser (2 or 3 modules). In the living room, it will perfectly compliment the Alex cabinet; or the double Alex cabinet in larger rooms. 
 
The smooth, knotless fibre of mindi features a light visible grain and is both striking and resistant. It is easy to work with and naturally light in colour; it can be used to make sturdy, stylish furniture. The mindi we use to make our furniture comes from Indonesian plantations.
Learn more about mindi.
Furniture already assembled
Once unpacked, your furniture is instantly ready to become part of your life.
Primary material :

Light mindi wood varnished

Product dimensions:

H 85 x W 120 x D 41 cm

Product weight:

29.24 kg

Number of packages :

1

Package dimensions :

H 91 x W 126 x D 46 cm

4 doors opening on 4 spaces:
- H 26.5 x W 56 x D 36 cm *
removable shelf 4 drawers:
- H 8.9 x W 23.8 x D 27.8 cm *
- wooden slides *
useful dimensions
 
To preserve, clean and revive the shine of your wooden furniture, we advise you to simply use a dust remover.
To prolong the life of your furniture, we advise you to regularly maintain it.


Delivery
Standard delivery
Small Parcels: (less than 30 kg)
- Delivery via Parcelforce to your door
- Driver will leave a card on delivery attempt

Large & Heavy Items:
- Two-man delivery to your room of choice, up to the 2nd floor (for items less than 75 kilos)
- The delivery company will contact you to book a delivery slot
- Deliveries from Monday to Friday between 8:00am-9:00pm

£49.90
Premium delivery
- Two-man delivery to your room of choice, up to the 2nd floor (for items less than 75 kilos)
- The delivery company will contact you to book a delivery slot
- Deliveries from Monday to Friday between 8:00am-9:00pm
- Product inspection and packaging removal


£64.90
Our commitments
At Tikamoon, we've always had a green heart. It's why we've been offering natural solid-wood furniture since 2008. While today, many claim sustainability – sometimes in a way that's vague or unproven – we remain faithful to our values, communicating clearly and transparently.
Our sustainable development policy
Traditional assembly
Solid wood furniture
Furniture assembled
Designed to last
Our inspirations
· Dining Room